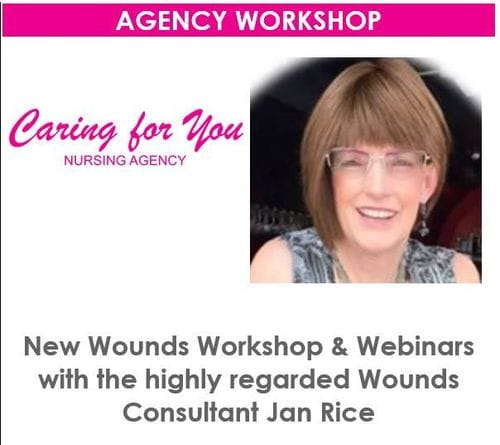 WOUNDS WEBINAR -> WOUND DRESSINGS
Wound dressings - the right dressing, for the right tissue, for the right time. Webinar (1 hour)
Dressing selection can be extremely confusing and yet there are methods to assist in decision making. This presentation will offer ways to assess a wound, considerations for setting aims and then selecting a dressing to achieve the aim. Naturally in order to evaluate if your selection has been appropriate you will also need to know what to expect by using such a dressing and for how long that product should be used. All this and more will be covered in this talk.
Dear Friend,
We are pleased to announce the return of some our Workshops to our Carrum Downs Head Office. Please call to register for one of the below dates that you would like to attend. Payment is required on booking.
Caring for You is proud to heavily subsidise the cost of this Wounds Education for our Nurses. It's also a great opportunity to earn CPD hours prior to your Ahpra registration renewal.
*Workshop date is subject to any new Government Restrictions that may be imposed and will be conducted in a Covid-19 Safe Environment in a room with large floor space as per our C4U Covid-19 Management Plan. Regrettably, Members will be asked to remain in the room and will not be permitted to enter our Main Offices.