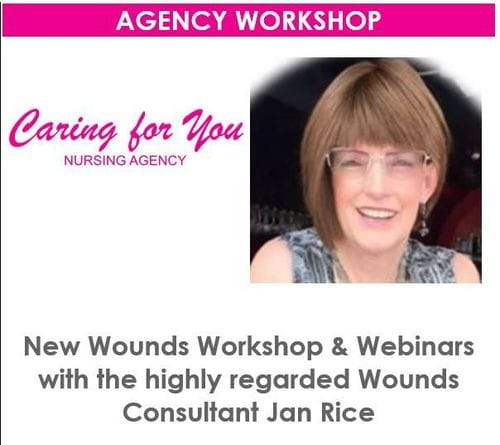 WORKSHOP -> WOUNDS MANAGEMENT
Wound management workshops (2 hour practical) at C4U HO CARRUM DOWNS (VIC)
"Wound management is a complex process, but the actual managing of a wound has not changed since 1233BC. I know you will be confused but the reality the principles of wound management are almost set-in stone. I will take you through these principles and then on to ways to put these principles into practice. We will also discuss skin tears, pressure injuries, ulceration of lower legs and foot wounds." Jan Rice.
We are pleased to announce the return of some our Workshops to our Carrum Downs Head Office. Please call to register for one of the below dates that you would like to attend. Payment is required on booking.
Caring for You is proud to heavily subsidise the cost of this Wounds Education for our Nurses. It's also a great opportunity to earn CPD hours prior to your Ahpra registration renewal.
*Workshop date is subject to any new Government Restrictions that may be imposed and will be conducted in a Covid-19 Safe Environment in a room with large floor space as per our C4U Covid-19 Management Plan. Regrettably, Members will be asked to remain in the room and will not be permitted to enter our Main Offices.