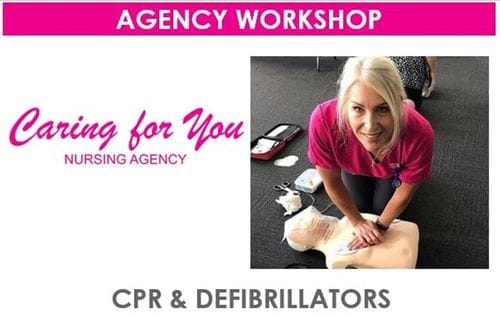 WORKSHOP -> CPR & DEFIBRILLATORS (HLTAID001)
CPR & Defibrillators Training at C4U HO Carrum Downs (VIC), presented by Lesley Cochrane, from Defibrillators Australia.
In this training you will be learning on both adult and child mannequins.
This course includes:
Duty-of-care, legal limitations and considerations,
Emergency access procedures,
Chain of Survival (Inc. calling an Ambulance),
Consideration of relevant workplace hazards/issues,
Infection control principles and procedures, including use of standard precautions,
Privacy and confidentiality requirements,
Management of an Unconscious Patient & Recovery Position,
RSABCD & CPR on an adult, child and baby, including the use of a defibrillator (AED) on an adult and child.
CPR & Defib. $90 (08:30-12:00) with morning tea provided.
We are pleased to announce the return of our CPR & First Aid courses to our Carrum Downs Head Office. Please call to register for one of the below dates that you would like to attend. Payment is required on booking.
Caring for You requires all AIN / PCA Members to have a CPR certificate (Annually) and First Aid certificates (3 yearly).
All nurses (EEN & RN) members must have a current CPR Certificate on file Annually, as per our company policy.
*Our clients are now enforcing these requirements - your shift opportunities will be significantly impacted without these competencies.
**These training dates are subject to any new Government Restrictions that may be imposed and will be conducted in a COVID 19 Safe Environment in a room with large floor space as per our C4U COVID 19 Management Plan. Regrettably, Members will be asked to remain in the room and will not be permitted to enter our Main Offices.
Members are welcome to book and attend our workshop or alternatively, a course from another provider and email your certificate to our compliance team. Thank you if you have recently updated your CPR/First Aid, there is no need to respond.