"We provide regular, free upskilling and training refreshers for our nurses and carers"
We have the capacity to deliver education seminars of value to our clients and their employees, within their healthcare setting. Our education and training services are specifically designed for all nurses taking into consideration their individual qualifications. The sessions are contextualised to suit the culture and dynamics of a particular healthcare setting. Caring for You are committed to ensuring our education and training systems are aligned to the suite and abide with current legislations. These sessions are in addition to our mandatory online comptency training which we provide free to all our staff.
By delivering quality training and education sessions to all classifications of members of our staff, Caring for You are able to enhance and provide our nurses with remarkable healthcare skills to utilise within our client's healthcare settings. This process strengthens the quality level of standard of care our nurses can deliver to our clients, in conjunction with their residents.
Our members receive their education and training sessions either within a group set scenario, online or have the option of receiving 1:1 education with our nurse educator.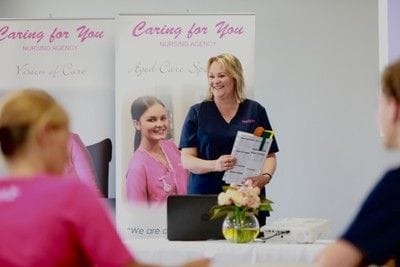 Education Topics include:
Management
No Lift
Manual Handling
EEO
Elder Abuse
Infection Control
CPR/First Aid

Wounds/Dressings
Diabetes
Gastro Action Plan
Continence
Challenging Behaviour
How to manage a difficult conversation/situation
Oral Care
Pain Management Assessment
Food Handling and SafetyAlzheimer's/Dementia = Dementia Dynamics Toolkit
Palliative Care
Pressure Areas
Neurological Observations and Documentation
Respiratory Assessment
Circulatory Assessment