TOP 7 BENEFITS TO WORKING AS AN AGENCY NURSE
Written on the 2 August 2019 by Caring For You Nursing Agency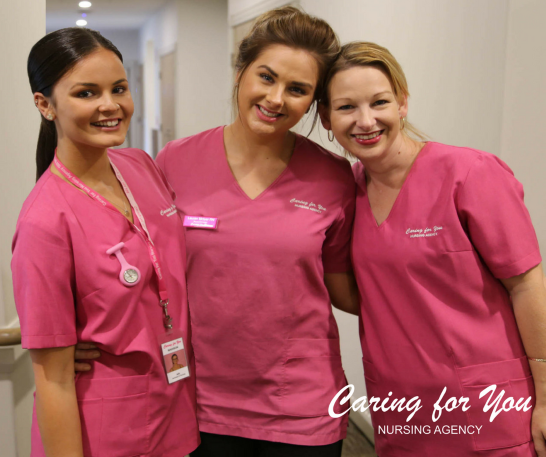 Working as an agency nurse and carer has many rewarding benefits, one being a very rewarding career! But like anything when embarking on a change you need to do your research and whether the role will be a fit for you. So, we have put together the top 7 benefits to help you with your decision.

1. Flexibility & Freedom of Shift Selection
The number one benefit of working for an agency is the flexibility and freedom it brings to your working life. Agency work gives you the flexibility to pick up shifts that fit around your life-work balance. Freedom is brought by the control you have of when and where you work. Agency work can fit around your studies, your children and your travelling. With Caring for You, once you are a member you can work anywhere we are!
2. Accepting Shifts is Easy
With Caring for You our booking process is very straight forward and simple. All our members have access to our C4U Members App that broadcasts the available shifts directly to your phone, which can be accepted or rejected simply with the tap of a button.
3. Great Pay Rates
Agency work has a much higher rate of pay than working directly with a facility or hospital. Caring for You have just recently increased all their rates across all qualifications and all states. We are now one of the best paying agencies in Australia.
4. Variety of Working Environments
Being an agency Nurse or Carer gives you more choice of shifts and opens you up to a variety of different types of shifts. Not only do you get to choose the times you want to work but you can choose the location. Our agency nurses can choose from a whole range of shifts including Aged Care, Acute, Home Care and quite recently Defence Force shifts. Currently we are actively seeking acute nurses!
5. Growing your Professional Network
An overlooked benefit of agency work is the ability to grow your professional network within the Healthcare Industry. Agency not only gives you the opportunity to work in a variety of locations, but you are interacting with a variety of different people in different situations. Not only are you broadening your networking opportunities but also your own working knowledge.
6. Professional Development
Agency work is a great platform for the advancement of your own professional development via the different shifts that you potentially have access to. As you build your network and explore different shifts, your skills and professional capacity will expand. You will gain more working experience and enhance your clinical skills as you work with different people in different locations across a wide range of departments and situations
7. Training & Learning
Finally, training and continuous learning is a must in the Healthcare Industry. Another benefit of agency work is that you have access to a variety of different training opportunities, which allows you to keep yourself up to date and compliant. Don't let those CPD hours get away from you! Caring for You's extensive training schedule, featuring some of Australia's brightest facilitators, is open to all our members, and readily accessible via our website.
If you are interested in joining our agency and enjoying these benefits then click here!
Author:
Caring For You Nursing Agency