Impacted by COVID-19?
Written on the 19 May 2021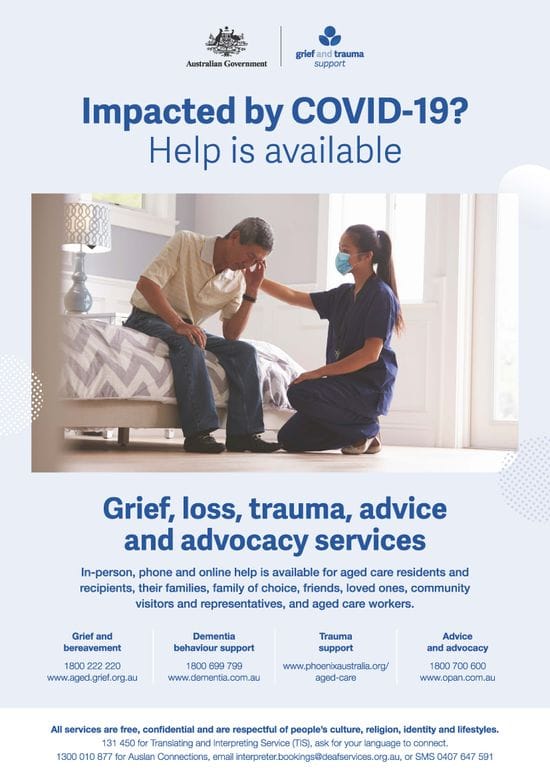 Impacted by COVID-19 in aged care?
In-person, phone and online help is available for aged care residents and recipients, their families, family of choice, friends, loved ones, community visitors and representatives, and aged care workers.
Dementia behaviour support
Dementia Support Australia Aged care residents living with dementia may have changed behaviours because of COVID-19 restrictions.Specialised engagement consultants,clinical support, plans and strategies,
advice and information services are available 24 hours a day across Australia. Need help managing changed behaviours?
Call 1800 699 799 or visit
www.dementia.com.au
Advice and advocacy
Older Persons Advocacy Network (OPAN) OPAN is independent of the government and aged care providers. The network provides free and confidential aged care advocacy, COVID-19 advice and referral services.
Connect on 1800 700 600 or visit
www.opan.com.au for free and
confidential advocacy and advice.
Trauma resources- Phoenix Australia
COVID-19 may have exposed old or new emotional trauma. While some people recover, others may develop mental health problems and need help. Phoenix Australia offers information and tools to support those affected by traumatic
experiences, and for those who care for them. Resources include information on trauma and grief for older people, their families and carers. Fact sheets, webinars and training is also available for the aged care workforce and managers.
Need help? Seek it:
www.phoenixaustralia.org/aged-care
Grief and bereavement - Australian Centre for Grief and Bereavement
Many senior Australians may be experiencing grief, loss or bereavement because of COVID-19 impacts. It's ok to seek help, grief, loss and bereavement support services are available.
Connect and call 1800 222 200 for phone
counselling, visit www.aged.grief.org.au for resources or to find a bereavement practitioner.
Download the 'My Grief' app for advice on supporting a loved one.
All services are free, confidential and are respectful of people's culture, religion, identity and lifestyles.
Grief and bereavement
1800 222 200
www.aged.grief.org.au
Dementia behaviour support
1800 699 799
www.dementia.com.au
Trauma resources
www.phoenixaustralia.org/aged-care
Advice and advocacy
1800 700 600
www.opan.com.au
Translations and accessibility
131 450 for Translating and Interpreting Service (TIS),
ask for your language to connect. 1300 010 877 for Auslan Connections,
email interpreter.bookings@deafservices.org.au,
fax 07 3892 8511 or SMS 0407 647 591.
The Grief and Trauma Support Program complements existing mental health services.
Crisis support is available from
Lifeline: www.lifeline.org.au and
Beyond Blue: www.beyondblue.org.au, see
Head to Health: www.headtohealth.gov.au,
or talk to your GP