2019 WORK & WIN Winter Promotion
Written on the 28 May 2019 by Caring For You Nursing Agency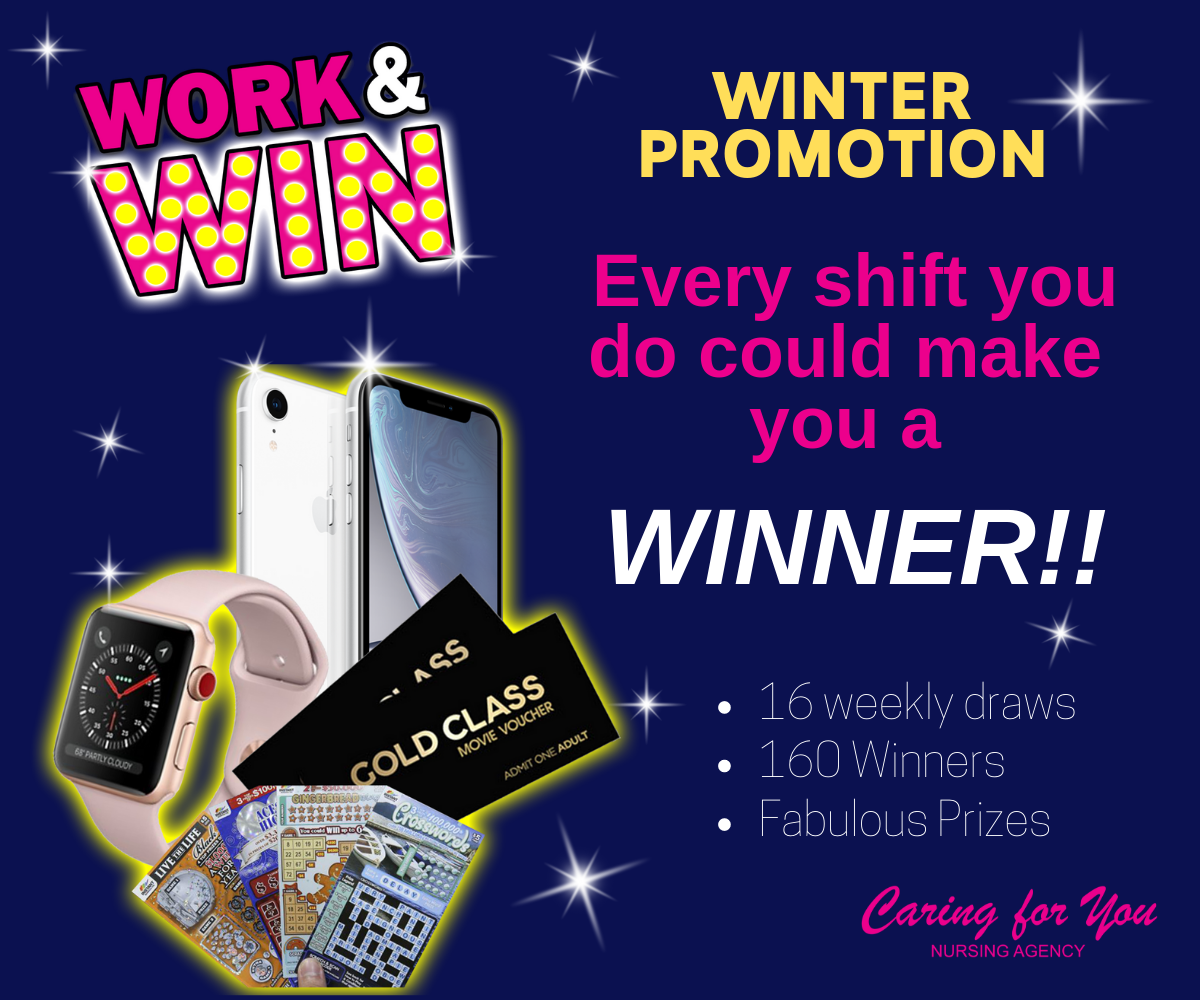 Caring For You is super excited to launch their new Member Promotion!
To be apart of this fantastic promotion all you have to do is keep your availabilities up to date and work some shifts and you could win AN iPHONE OR AN iPHONE WATCH!!!
To make it more exciting and available to everyone, we will have 4 draws every week for the next 16weeks - THAT IS 160 WINNERS - and it could be YOU!!
The promotion starts 3 June 2019 and finishes on the 22 September 2019. Winners will be announced on Wednesday the following week after the weekly draw. All winners will be contacted via phone and published on our Website / Facebook & Instagram pages.
Weekly Draws - New draw commencing each week!
Monday Madness Draw has worked a Monday shift for the week
Fabulous Friday Draw has worked a Friday shift for the week
5+ Shifts Draw has worked 5 or more shifts in the week
Lucky Dip Draw of the Week any shift could win, more shifts = more entries to win!

Who can resist our shifts when you can win this!
Monday Madness Draw 3 winners per week 1st prize iPhone Watch / 2nd 2 x Prize Gold Class Movie Tickets / 3rd Prize $10 scratchie
Fabulous Friday Draw 3 winners per week 1st prize iPhone Watch / 2nd 2 x Prize Gold Class Movie Tickets / 3rd Prize $10 scratchie
5+ Shift Draw 3 winners per week 1st prize iPhone Watch / 2nd 2 x Prize Gold Class Movie Tickets / 3rd Prize $10 scratchie
Lucky Dip Draw 1 winner per week wins an iPhone 8
For more information and our Terms & Conditions please click here
If you have any questions, please do not hesitate to contact our team on 1300 369 206
Author:
Caring For You Nursing Agency